Dharamsala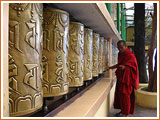 The town of Dharamshala is situated in Himachal Pradesh, on the high slopes in the upper reaches of Kangra Valley. With the Dhauladhar Mountains serving as its backdrop, the town presents a picturesque sight. Dharamshala is divided into two parts, the Upper Dharamshala and the Lower Dharamshala, differing by approximately 1000 m in altitude. The town serves as the headquarters of the Tibetan government in exile. Dharamshala is also the seat of His Holiness, the 14th Dalai Lama in India.
It houses a large settlement of Tibetan refugee. Monks in their robes and old Tibetans walking with rosaries in their hands or turning the prayer wheels is a common sight here. There are a number of monasteries and temples in Dharamshala, which serves as the major attractions for the tourists coming here. There are also several institutes here, set up to conserve the art, culture and traditions of Tibet.
Tourist Attractions of Dharamshala
Namgyal Monastery
The personal monastery of The Dalai Lama, Namgyal is situated in Upper Dharamshala. Dharamshala It houses huge stucco statues of the Buddha, Avalokitesvara and Padmasambhava. The monastery also consists of an institute for learning, where futures Lamas are provided with higher Tibet studies.
Gangchen Kyishong
The offices of the Tibetan government-in-exile and the Library of Tibetan Works and Archives are located here.
Monastery of Nechung Oracle
The monastery of Nechung Oracle is situated within the complex of Gangchen Kyishong. The official oracle of The Dalai Lama sits here.
Men-Tsee-Khang
It is the center for Tibetan Medicine, located very near to Nechung.
Norbulingka Monastery
The beautiful monastery of Norbulingka boasts of a rich collection of art, paintings, handicrafts and thanks.
Rewalsar
Rewalsar lies very near to Dharamshala. Here, you can visit the cave temple of the great Indian Tantrik Guru Padmasambhava.
How to Reach Dharamshala
By Air : The nearest Airport is at Gaggla, approximately 13 km away from the town.
By Rail : The nearest railway station is that of Pathankot, approximately 85 km away.
By Road : There are regular bus services from Manali, Delhi and Shimla to Dharamshala.