Barabar Caves Tour
Barabar caves are located in the Barabar hills which are renowned for the four rocks cut caves that are situated here. They are located around 20-25 km north of Gaya, Bihar. Constructed during the reign of Ashoka, these Barabar caves date back to the third century. These caves were designed to look like wood and they look as if they were cut with laser.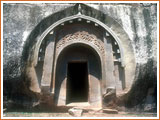 Barabar comprises of four caves including Lomas Rishi, Sudama, and Karan Chopard Nigoha-kumbha or Banyan Tree Cave and Vishva Zopari. Out of these, the most important one is the Lomas Rishi cave, whose interiors comprise of huge rectangular chamber and a miraculous polish all around. An exclusive feature is the bow shaped arches at the entrance of these caves. All caves have Buddhist inscriptions and consist of temples made of black granite stones.
These Barabar caves in India are categorized as
Pandava caves : These caves of the five Pandavas come together to form another part of the Barabar caves. These caves are small in size and were used by Pandavas, the fiver brothers in their exile in the Mahabharata era.
Cottage-shaped hut caves : The Barabar caves are typically found in the form of a hut or cottage, open on one side with other three sides walled with stone.
The Nagarjuni Hill, which is nearby also comprises of two caves known as Sudama and Chaupar. These caves are proud of its polished interiors and plain exteriors. The Barabar caves with their interiors smooth and comforting served as retreats for the Buddhist and Jain monks.
These caves give out a splendorous beauty to one and all who visit them. They have a majestic and grand aura surrounding them, giving the visitors a chance to go back in that glorious time and appreciating the exquisiteness of the caves in the present time.
Buddhist Tour Destinations