Ghosrawan in Bihar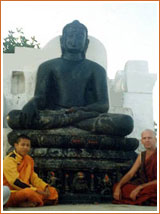 A small village, Ghosrawan in Bihar is the site where a huge Buddhist Monastery, the Kapotaka Vihara Once existed. This famous monastery was one of the major Buddhist pilgrimage sites in India, also visited by the famous Chinese traveler, Hieun Tsang during his journey to India. The main attraction, especially for Buddhists is a huge Buddha statue in sitting posture that is nearly 10 feet tall. Located on the outskirts beside a lake, the idol of Lord Buddha is carved out of shiny black stone. It presents a splendid sight to tourists visiting the site for the first time.
Nearby to the south, is another tiny village called Tetrawan, which also attracts tourists with its Buddhist pilgrimage sites. It has a magnificent collection of statues of the Buddha and Bodhisattvas, all beautifully carved.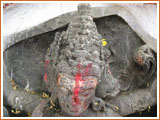 Other Tourist Spots
Nawada : It is a small museum in dilapidated condition, housing a few statues of Lord Buddha thereby depicting Buddhism India.
Pawapuri : Pawapuri is a sacred destination for the Jain community. Lord Mahavira, the founder of Jainism died here. The main attraction is the marble temple (Jal Mandir) situated here, in the midst of a beautiful lotus lake. Samosharan is another Jain temple that attracts large number of devotees.
Rajgir : It is among the important Buddhist pilgrimage sites in Bihar as Buddha preached many of his sermons, here during Ghosrawan his twelve-year stay. Gridhkutta or Venture's Peak, Venuvanaram, Sattapani Caves, Jeevika, Mango Garden, Karnada Tank and Buddha's sculpture are the prime Buddhist attractions.
Buddhist Tour Destinations