Gurpa in Bihar
A small village, Gurpa in Bihar forms part of Buddhist pilgrimage sites in India that are of Gurpa in Bihar great significance. After the Buddha's death he was succeeded by Maha Kassapa. It is believed that while Maha Kassapa was enroute to his favorite hill resort Kukkuta Padagiri, he realized that his life was nearing its end.
During his journey, he had to encounter rocks that hindered his journey. He struck all the rocks with his staff, which opened up and paved his way. When he reached the hilltop, rocks formed a cavity, entering which he went into deep meditation. But the rocks around him closed off. It is believed in Buddhism India that when Maitreya or the Future Buddha will appear in the world, he will first visit Kukkuta Padagiri, raise Maha Kassapa and get the Buddha's robes from him. Then, he will begin his new dispensation. This sacred mountain is now called Gurpa where many Hindu and Buddhist shrines and their relics can be sighted near the cave.
A steep path takes you to the base of a cliff with a narrow crack, which when entered takes you to Gurpa in Bihar another cave, where Asanga spent his life in meditation. Fabulous views from the hilltop and a calm atmosphere make it perfect for meditation.
Other Tourist Spots
Gaya: Gaya is of great significance for Hindus and Buddhists, being the place where Gautama Buddha preached His famous Fire sermon. But presently, Buddhist pilgrimage sites are in shambles. A museum displays an excellent collection of Buddhist sculptures and artefacts.
Bodh Gaya: Bodh Gaya is among the four prime Buddhist pilgrimage sites in Bihar. This place has a history of attaining Enlightenment by Prince Siddhartha and becoming Buddha other attractions here include the following:
Carvings in the Buddhist Caves
Each and every one of the caves here in his Buddhist pilgrimage site is adorned with magnificent sculptures and paintings. These beautiful carvings in the caves have diverse themes. The carvings in the Buddhist caves represent the life of Lord Buddha. Some caves have carvings based on classical Indian art. The Kailash Temple is said to have the biggest stone block structure in the world.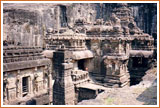 Tourists from all over the globe are pulled towards and attracted to visit this beautiful Buddhist pilgrimage site in India as it serves as a great source of getting to know about the three diverse religions in India. Three caves namely cave number 10; cave number 11 and cave number 12 are the most significant. Cave number 10 is known to be the most impressive illustration of Chaitya architecture in India. Cave number 11 is called To Tal dating back to the 8th century AD and is a three story structure. Cave number 12, another magnificent three story structure is known as Teen Tal.
How to reach
By Air : Gaya is the nearest airport, well connected with flights to Varanasi and international destinations like Bangkok and Yangon.
By Rail : Lying on the Delhi- Kolkata line, Gaya is the nearest railhead with direct trains from Patna, Varanasi and Puri.
By Road : Gurpa is a 33-kilometre drive via Fatehpur.
Buddhist Tour Destinations