Rajgir Tour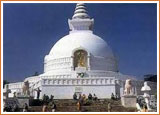 Rajgir has got the name from Raj Griha meaning the abode of the king. The city was the capital Rajgir of the mighty Magadha Empire during the period of Lord Buddha's lifetime when Patliputra was not formed.
Rajgir is 14 kms from Nalanda. Rajgir is one of the most important tourist places in India. Rajgir has its own very scenic beauty surrounded by five holy hills, the picturesque little town of Rajgir is important for Buddhists as well as Jains. Here the two rock-cut caves were the favorite retreats of the Buddha and it was on this hill that he preached two of his most famous sermons. The nearest airport is in Patna (115 kms) and the railhead is in Bakhtiyarpur (54 kms). Rajgir is well connected by good roads to Patna, Gaya, Delhi and Kolkata (Calcutta). Ask For Rajgir Travel Detail.
Buddha spent many years in Rajgir and also delivered sermons here. Rajgir is equally important for the Jain as well as Hindu pilgrims, for Lord Mahavira (the founder of Janism) resided here for some time and the place finds its reference in Hindu epic - Mahabharata. The historic sites of Rajgir associated with Buddhism, Jainism and Rajgir Hinduism attract pilgrims from all over world.
Facts about the City
State : Bihar, in east of India.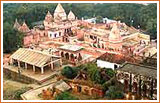 Significance : A Buddhist, Jain and Hindu Pilgrimage Site.
Best time to visit: October to March
Buddhist Attractions in Rajgir
Shanti Stupa : This is an immense white structure situated on the top of the hill Ratnagiri and is the main Buddhist attraction at Rajgir. This houses four gold statues representing Buddha's birth, enlightenment, teaching and death.
Gridhkutta Hil : Gridhkutta Hill was the favorite place of Lord Buddha, where he delivered many discourses after he attained enlightenment. It was here that he gave two important sutras the Lotus Sutra and the Prajnaparamita.
Ancient Ruins : There are many sites including ruins of the ancient city, caves, and places associated Rajgir with Ajatashatru's and king Bimbisar can be seen here. Here one can see the Ajatashatru's fort built in 5th century BC where the emperor had imprisoned his father. The 1.5-km long outer wall was built by stone blocks.
Saptaparni Cave : It was here, where the first Buddhist council was held after Buddha attained Nirvana. Also a Burmese temple, and a modern Japanese temple can be seen here.
How to reach Rajgir
By Air : The nearest airport is at Gaya but Patna Airport, in the state capital, is better than Gaya in terms of infrastructure and connections.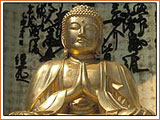 By Train : Though Rajgir has a railway station, Gaya is a more convenient railway station, which is 78 km from Rajgir and connects all the major cities of India.
By Road : Excellent memorable road network connects the town to some of the major cities of Bihar and India. Some of the major road distances are Patana-102 km, Nalanda - 12 km and Gaya - 34km.
Buddhist Tour Destinations