Ladakh Tour
Leh being the capital of Ladakh is one of the fascinating destinations for tourists of India as well as all over the country and abroad. The life of pious minks revolves around chatting of "Buddhist shlokes" are heartwarming and holds peace in your heart. Their life continues since ages when, they have settled themselves in this place. Leh is an exotic destination with lots of adventures for the tourists to enjoy. Starting from the trekking through a mountaineering terrain, you could also play golf on the beautiful green altitude.
Hemis Gompa being the largest monastery in Ladakh is located at a distance of 45 kilometers from Leh. Around 100 Gompas were excavated from this place. These Gompas are said to be the religious residences of Buddhist monks who stay here by leading the Buddhist way of life, meditating and praying. As these gompas are situated in the remote places, trekking is the best way of exploring these places.
Shanti Stupa Ladakh
The Shanti Stupa was inaugurated by Dalai Lama in the year 1995. The clay images of Lord Buddha Ladakh and Manuscripts were excavated by the archaeologists. The predominant feature of Buddhism at Ladakh were the teachings of Mahayana and Hinayana Buddhist sects which throws a light on the monasteries, that were built in this fascinating place.
Location
Ladakh spreads across an area of 3,500 meter high plain, sloping down gently from the face of bare mountains and around terraced fields to the flood plains of the Indus River.
Tourist Attractions in Ladakh
The century old culture of Ladakh can be viewed in its ancient monuments, monasteries, oral literature, art forms, fairs and festivals. It is a place where all occasions- marriage, birth, harvesting or even the flowering of plants are marked by feasting, dancing and the singing of folk songs.
Shey Palace and Monastery : It crowns a knoll and reflected in a mirror-still lake located at its base. A two-story high, gilded Maitreya Buddha image resides in the monastery.
Thiksey Monastery : Exhibiting a fine example of the Ladakhi architecture, this Gompa is situated Ladakh On the top of the hill and part of Gelukpa order. The 12 sline-height:21px;padding-left:10px;ey monastery complex contains numerous stupas, statues, thangkas, wall paintings, swords and a large pillar engraved with the Buddha's teachings.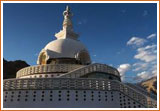 Hemis Monastery : Hemis takes its name from the world famous Buddhist Gompa situated here. The combination of exotic wildlife, culture, art, and natural splendor makes Hemis a perfect travel destination.
Stok Palace and Monastery : Stok Palace 10 kms from Leh has the only museum of Ladakh, which houses one of the most precious belongings of the earlier royal families. In its many halls, displays include rare precious stones, old Thanks, Queens's jeweler, arms & armory and the Royal Crown of the King.
Buddhist Tour Destinations