Indasala Caves Tour
Located near Rajgir in Bihar, Indasala Caves lies at the base of a cliff almost halfway up the Indasala Caves Giriyek Mountain. Indasala Caves is among the prime Buddhist pilgrimage sites in India. Venue of the most selfless of discourse known as Sakkapanha Sutra, it was delivered by Lord Buddha after Sakka approached him to seek answer for his eight questions. Buddha also gave verses 206, 207 and 208 of the Dhammapada during his stay here. Indasala Caves hold great significance for Tibetans, being the abode of famous commentator, Buddhasrijnana on Guhyasamaja Tantra.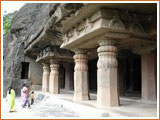 Another landmark is Hansa Stupa placed atop the mountain. Considered the complete Stupa still existing in India, the Chinese traveler, Hieun Tsang also visited and mentioned this Stupa in detail. Getting there will be tough, as one has to cross over thorny bushes that may hurt too. On reaching the top, the surrounding views will be fascinating, satisfying the ordeal you had to face to reach the place.
At the end of the mountain is another cave, home to an age old Swami. Many guests seek his blessings. Being unsafe, all tourist spots should be visited before dusk.
Other Tourist Spots
Rajgir: Among important Buddhist pilgrimage sites in Bihar, Buddha preached many sermons, here.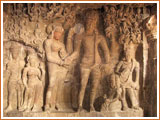 Nalanda: In Nalanda, one can see ruins of the world's greatest Universities of 5th century. Many temples and monasteries depict Buddhism India.
Kundalpur: Significant for the Digambar sect of Jains, Kundalpur is considered as Lord Mahavira birthplace. There is a Jain temple and two lotus ponds- Dirga Pushkarini and Pandava Pushkarini.
Gaya: Gaya is of great significance for Hindus and Buddhists, being the place where Gautama Buddha preached His famous Fire sermon. But presently, Buddhist pilgrimage sites are in shambles. A museum displays an excellent collection of Buddhist sculptures and artefacts.
Swarajpur-Baragaon: It has a lake with a temple honoring the Sun God. Chhat Puja is celebrated asala Caves every year, praying to Lord Surya.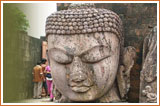 How to reach Indasala
By Air : Nearest airport is Gaya.
By Rail : Nearest railhead is Rajgir, well connected to Gaya.
By Road : Regular buses and taxis ply from Rajgir to Indasala caves.
Buddhist Tour Destinations