Lalitgiri Tour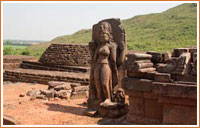 Along with Udayagiri and Ratnagiri, Lalitgiri constitutes the Diamond Triangle. The three hills preserve the ruins of the Buddhist complex that once flourished in the state of Orissa. Lalitgiri, the earliest Buddhist sandstone hills, dates back to 1st century AD and is located in the Cuttack district or Orissa.
Excavation work carried out here have brought to surface the ruins of a wonderful brick monastery with beautiful carvings, a temple with bow shaped arches, 4 monasteries and a huge stupa. The Buddhist treasures unearthed from here also include a large number of gold & silver articles, a stone container, earthen pot and traces of Kushana dynasty and Brahmi script. A massive image of the Buddha is a unique find, the image has pursed lips, long ears and wide forehead.
A museum here displays the finds from the excavation. There are numerous Mahayana sculptures consisting of colossal Buddha figures, huge Bodhisattva statues, statues of Tara and Jambhala. Almost all of these exhibits have an inscription on them. The architectural remnants found in Lalitgiri remind one of the Gandhara and Mathura craftsmanship.
Other Attractions
The Buddhist sites of Ratnagiri and Udayagiri are closely and cannot be missed out at any cost.
Location and Accessibility
Lalitgiri is situated in the Cuttack district, 55 km northeast of Cuttack city. Its distance from Bhubaneswar is around 100 kms. Bhubaneswar airport is the nearest one and is connected to destinations like Delhi, Kolkata, Chennai, Mumbai, Nagpur and Hyderabad. The railway station in Cuttack is the closest railhead. Trains from here connect to destinations like Kolkata, Chennai, New Delhi, and Mumbai through regular trains. Buses also connect Cuttack to the other cities of the state and country including Bhubaneshwar, Konark, Puri, and Kolkata. A number of buses ply between Bhubaneswar and Cuttack and the trip takes around 40 minutes.
Best Time to Visit
The best time to pay a visit to Lalitgiri is between the months of October and March when the weather is pleasant. From March onwards, the temperature soars up and is followed by monsoons.
Buddhist Tour Destinations