Ellora Caves Tour
At a distance of more or less 25 km from the Aurangabad district, the Ellora caves are located in Ellora Caves Maharashtra. These splendid and breathtaking caves of Ellora India cut out and carved from the vertical face of a cliff represent the three major religions: Hinduism, Buddhism and Jainism. This World Heritage Site declared by UNESCO consists of Jain and Hindu temples, viharas that is, monasteries and chaityas which are the halls of worship.
About the Caves
The thirty four temples and monasteries here date back to the 5th century AD and 11th century AD. Although twenty two more caves have been found here which are dedicated to the Hindu God - Lord Shiva. The caves in this Buddhist pilgrimage site in Maharashtra have been divided according to the religion. For example twelve of the caves (numbered 1 to 12) represent the Mahayana sect of Buddhism which was constructed between 550 AD and 750 AD. Seventeen caves (numbered 13 to 29) belong to the Hindu religion which was built between 600 AD and 875 AD. Five caves (numbered 30 to 34) comprise of the Jain religion which were built between 800 AD and 1000 AD.
Carvings in the Buddhist Caves
Each and every one of the caves here in his Buddhist pilgrimage site is adorned with magnificent sculptures and paintings. These beautiful carvings in the caves have diverse themes. The carvings in the Buddhist caves represent the life of Lord Buddha. Some caves have carvings based on classical Indian art. The Kailash Temple is said to have the biggest stone block structure in the world.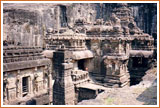 Tourists from all over the globe are pulled towards and attracted to visit this beautiful Buddhist pilgrimage site in India as it serves as a great source of getting to know about the three diverse religions in India. Three caves namely cave number 10; cave number 11 and cave number 12 are the most significant. Cave number 10 is known to be the most impressive illustration of Chaitya architecture in India. Cave number 11 is called To Tal dating back to the 8th century AD and is a three story structure. Cave number 12, another magnificent three story structure is known as Teen Tal.
How to reach
By Air : Chilkalthana airport at Aurangabad (30 kms) is nearest, direct flights fly in from Mumbai, Delhi, Jaipur etc.
By Rail : Either, Aurangabad if you have enough leisure time, or Jalgaon, if you need faster trains.
By Road : Good road condition, and a superb connectivity from Mumbai.
Buddhist Tour Destinations